2018 Harvest Festival
The 2018 Harvest Festival will be held on 4th March from 11am to 3 pm. This is our open day to allow visitors to view our gardens, and talk with our gardeners. Information, food, drink, produce, kid's activities and entertainment. Stay tuned for more details.
Welcome
We welcome you to the website of the Ballarat Community Garden. You can find out a bit about us by looking around the site.
You can also interact with us on Facebook.
BCG Event page is open to all even if you do not have a FaceBook account.
BCG Discussion page is a place to discuss issues relevant to BCG and its members. You will need to apply to join this group and you will need a FaceBook account.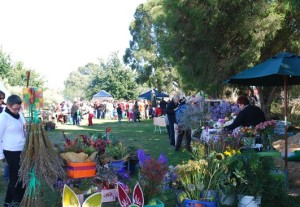 MANAGEMENT OF THE BCG 
The responsibility for managing the community garden rests with Ballarat Community Garden Committee.
The committee consists of up eleven members with a quorum of no less than five to be able to conduct meetings.
All committee members are appointed on a voluntary basis.
BCG Meetings
Committee meetings are held on the 2nd Wednesday of each month and working bees are held on the following Saturday morning from 9am.
The committee meetings commence at 5.30pm at the Community Garden. Members friends and interested community members are welcome to attend both the meeting and / or the working bee.
Want to join the BCG ?
Please read the About BCG page to discover what you get by joining and what responsibilities you agree to take on. You will need to fill in a membership form found at the bottom of the page and return it to go onto the waiting list. We cannot predict how long you may have to wait as it will depend on someone choosing to leave.