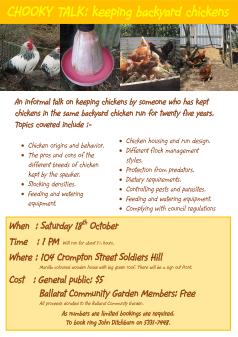 John Ditchburn is offering a workshop at his place, to show us how he cares for his chickens.
The workshop is free for BCG members and $5 for non-members. This will be a great opportunity for us to hone our skills and prepare for the (almost) imminent arrival of our own chooks to the garden.
Get in quick to gain your place, as numbers are limited.
Venue: John's place
Date: Saturday 18/10/2014
Click image for pdf details.