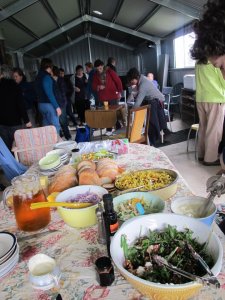 The BCG Annual General Meeting was held at the Community Garden on 15th September 2012. About 25 members turned up to hear reports and to vote in our new Committee.
Creature comforts were not forgotten as we cosied up to the new heater, and Jane provided us with a fantastic feast of healthy gourmet food. ( I think scones and jam and cream are healthy if the jam is home made) Pictures to follow.
In the open forum that followed, we implemented a team based model for BCG activities and more information will be available shortly for those not in attendance.